POEMS AND THINGS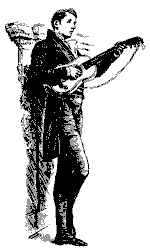 THE TRUTH ON THE TREE
by Barbara Koska Timm
Be wise as you choose
The mate of your youth,
Don't leave this decision to fate,

Or your partner may change
And grow horribly strange,
And your feelings of love turn to hate!

You may beg and coerce
As your marriage grows worse,
You may plead and cajole all in vain.

As your marriage collapses
Into nightmare mishapses,
You hope he gets hit by a train.

At the end of the road
You shrug off the load.
And, signing the papers, you're free.

Then you find out the truth,
When you search out your "Roots"
He's still there on your family tree!

THE ELUSIVE ANCESTOR
by Merrell Kenworthy

I went searching for an ancestor,
I cannot find him still.
He moved around from place to place
and did not leave a will.

He married where a courthouse burned.
He mended all his fences,
and avoided any man who came
to take the U.S. Census.

He always kept his luggage packed,
this man who had no fame,
And every 20 years or so,
this rascal changed his name.

His parents came from Europe.
They should be on some list
of passengers to the U.S.A.,
but somehow they got missed.

And no one else in this whole world
is searching for this man.
So, I play geneasolitaire
to find him if I can.

I'm told he's buried in a plot,
with tombstone he was blessed;
but weather took engraving,
and some vandals took the rest.

He died before the county clerk
decided to keep records.
No Family Bible has emerged,
in spite of all my efforts,

To top it off, this ancestor,
who caused me many groans,
just to give me one more pain
betrothed a girl named Jones.

I'M MY OWN GRANDPA
author unknown

Many, many years ago
When I was twenty-three,
I was married to a widow
Who was pretty as could be.

This widow had a grownup daughter
Who had hair of red,
My father fell in love with her
And soon they, too, were wed.

This made my dad my son-in-law
And changed my very life.
My daughter was my mother,
For she was my father's wife.

To complicate the matters worse,
Although it brought me joy,
I soon became the father
Of a bouncing baby boy.

My little baby then became
A brother-in-law to dad.
And so became my uncle,
Though it made me very sad.

For if he was my uncle,
Then that also made him brother
To the widow's grown-up daughter
Who, of course, was my step-mother.

My father's wife then had a son
Who kept them on the run.
And he became my grandchild
For he was my daughter's son.

My wife is now my mother's mother
And it makes me blue ~
Because, although she is my wife,
She is my grandma, too.

If my wife is my grandmother,
Then I am her grandchild.
And every time I think of it,
It simply drives me wild.

For now I have become
The strangest case you ever saw.
As the husband of my grandmother,
I am my own grandpa.

THE GENERATIONS MYSTERY
by Barbara Koska Timm

First, may we agree on some basics? Am I correct when I say that it takes two biological parents to produce one offspring and likewise four grandparents and so on and so forth? Excellent! And, for the sake of illustration, may we agree that a generation spans approximately forty years? Thank you. Now, let us establish some criteria and enter some data:


| GENERATION | TITLE |
| --- | --- |
| 1 | That's me! |
| 2 | My two parents |
| 3 | My four grandparents (double the previous entry) |
| 4 | My eight great-grandparents (double again) |
| 5 | My 16 gggparents |
| 6 | My 32 ggggparents |
| 7 | My 64 gggggparents |
| 8 | My 128 ggggggparents |
| 9 | My 256 gggggggparents |
| 10 | My 512 ggggggggparents |
| 11 | My 1024 gggggggggparents |
| 12 | My 2048 ggggggggggparents |
| 13 | My 4096 gggggggggggparents |
| 14 | My 8192 ggggggggggggparents |
| 15 | My 16384 gggggggggggggparents |
| 16 | My 32768 ggggggggggggggparents |
| 17 | My 65536 gggggggggggggggparents |
| 18 | My 131072 ggggggggggggggggparents |
| 19 | My 262144 gggggggggggggggggparents |
| 20 | My 524288 ggggggggggggggggggparents |


So, in barely 800 years it has taken five hundred twenty-four thousand, two hundred eighty-eight souls to make little old me. Amazing! How many would it take from Christ's time? From Moses' time? I have heard that we were heading toward a population explosion. No, most definitely not! We have come from one! If Stephen Hawking is listening, I'd like your take on this. You seem to be pretty good with numbers!

Now, shall we talk about the Judeo/Christian view, to which I also ascribe, that we have all descended from just two parents: Adam and Eve?

Mahnomen Co., MNGenWeb Project
Thanks to Rootsweb for hosting this site
| | | |
| --- | --- | --- |
| County Coordinator: | Site Map on Home Page | |
©Copyright ~ Barbara Koska Timm